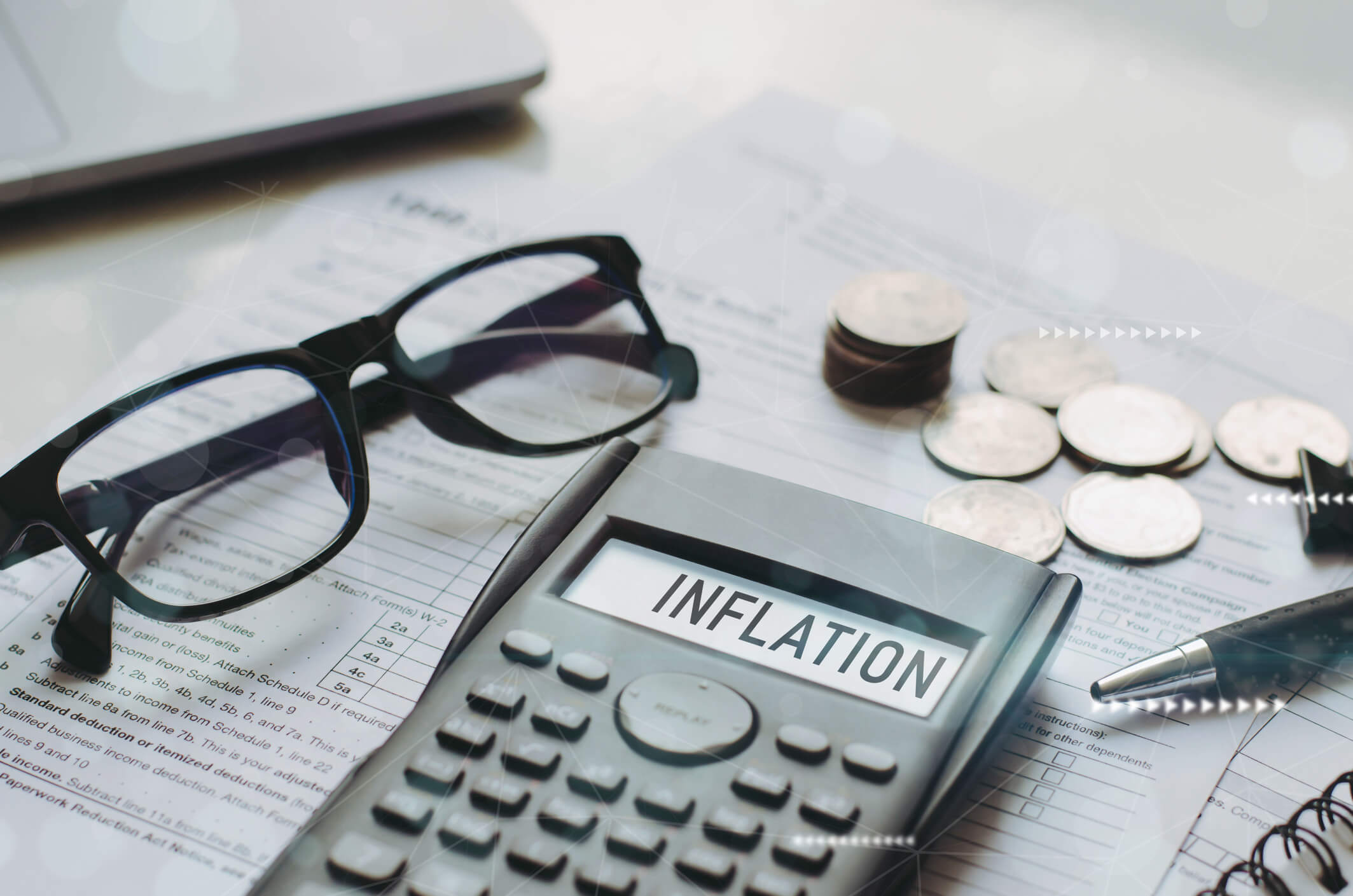 22 Jun

How to beat inflation in Singapore?

From higher utility bills to increasing prices of coffee and bread, inflation is a growing concern in Singapore. This February, the overall inflation (or consumer price index) rose to 4.3%. To give you some context, Singapore's overall headline inflation has historically averaged at about 2% in pre-covid times.

The accelerating inflation marks a dent on household budgets, as we are now paying more and saving less. However, that does not necessarily mean you are worst off. There are ways to protect yourself from inflation, and we are here to share. Read on!
What is inflation?
Simply put, inflation refers to a decrease in the value and purchasing power of money. This occurs as a result of a general increase in the prices of goods and services in an economy.  For example, the value of S$1,000 in 2011 is equivalent to the purchasing power of S$900.86 in 2021 at a compound average annual rate of inflation at 1.04%.
To understand why the inflation rate in Singapore has been rising so rapidly over the past couple of years and particularly in recent months, you must be aware of what drives inflation.
How inflation works
Typically, inflation happens when there is an increase in production costs. For example, the subsequent on-and-off global lockdowns due to COVID-19 affected production and transportation costs as supply fell below demand and drove prices north (e.g. electronic devices such as mobile phones, or automobiles). This is known as cost-push inflation.
There's also the demand-pull inflation that arises when there is a surge in demand for products and services. A strong demand fuelled by consumers' willingness to pay more for a product/service (e.g. staycation in Singapore when borders were closed) will lead to higher prices.
Ways to protect against inflation
1. Start earning more money
As inflation continues to climb, the savings that you have today will have a lesser value tomorrow, unless you start earning more money. There are various ways to increase your income such as taking on a second job, getting a healthy salary increment every year or to start investing.
While investing may be intimidating to some as it carries risks, it could be a more efficient and effective way to earn potentially higher returns, especially when you leave it to the experts at a nominal fee. Based on historical records, investing in equities is generally a good way to outrun inflation.
Experts recommend consistent investing, if possible, especially with longer time horizons. For those who are new to investing, you may want to check out Invest builder, a regular premium investment-linked policy (ILP) that offers the opportunity to earn potentially higher returns while getting covered for life's uncertainties throughout the policy term.
From as low as S$200 per month1, you can get access to specially curated portfolio funds and ILP sub-funds that match your risk preferences and multiple bonuses to help boost your investment.
2. Start investing in yourself
Ever wondered why our government constantly advocates lifelong learning and reskilling? Investing is essential to protect against inflation and the best investment you can make to be prepared for an uncertain financial future is an investment in yourself, especially one that will increase your future earning power (see point 1).
Before you start cringing at the costs of education, you should look further to the long term as recommended for most investments. Keeping your skills up-to-date and reskilling now to match expertise needed in the not-too-distant future will help you to stay competitive in Singapore's work scene. This is one long-term investment that can help inflation-proof your salary and recession-proof your career!
3. Investing in a home
Property prices have been increasing but if you are ready to fulfil the Singapore dream of buying a house to live in, an investment in real estate may not be a bad idea. Similar to land, home prices tend to increase in value over a certain period of time, and could counter the effects of inflation in the long run.
Think of a house as the hardware of the home, the software being your home occupants. Investing in a home goes beyond buying a property together with your loved ones. Your mutual decisions in financial matters – both in the short and long term – can help you to ride the waves of inflation and also to safeguard your family in the unfortunate event of death.
Hence, a hybrid investment that includes protection can be handy, especially for those who don't have sufficient life coverage. Invest builder, being an ILP includes the opportunity to earn higher potential returns while providing life protection. If a policyholder passes on suddenly, his/her dependents shall get a lump sum payout at the higher of 105% of net premiums2 or account value less any outstanding amounts.
Note: Real estate investments, like all investments, do not provide guaranteed returns, and an extensive waiting period is typically required in order for values to increase.
4. Watch what you spend
It may be challenging to tighten your household budget since certain products and services are essential to your household needs. Nonetheless, that doesn't mean you don't need to watch what you spend. Staying aware of your expenses and potential alternatives can help you to protect against inflation.
According to the Department of Statistics Singapore, housing and utilities (24.8%), food (21.1%) and transport (17.1%) account for the top three areas of expenditure for households in Singapore.
Be aware of transport inflation
If you're wondering why you seem to be topping up your EZ-link card more often lately, that's because transport inflation increased by 8.8% in 2021. In particular, private transport inflation increased by more than 11% on top of increases in car and motorcycle prices and pump prices. The Ukraine-Russia war worsens matters, driving petrol prices to new (scary) heights!
Commuting is still necessary so it is inevitable that you'd need to pay more, but you can save on your spending with some planning and discipline. Whenever possible, opt for public transport instead of private hire or perhaps even driving.
Be aware of food inflation
Singaporeans love our food, and we are often willing to spend on good food. That explains the increase in food inflation of 1.4% in 2021. If you have been to supermarkets or coffee shops lately, you may have seen notices of increased prices.
While it is not possible to stop buying food since we all need to eat, it is possible to be mindful of our dining options. There are affordable hawker centre foods that cost only a fraction of 'atas' food at cafes or high end restaurants. Also, you can actually save a lot on food if you cook instead of dining out. Watching what you spend can help you to protect you and your loved ones against inflation.
Be aware of lifestyle inflation
Choosing gourmet coffee over local kopi? Dining at fancy Michelin-star restaurants instead of the food court? Taking a taxi every time you head out of home? You may have fallen prey to lifestyle inflation. As we work and gain experiences, our income also increases in tandem. Unfortunately for some, you may find that your spending increased too.
Lifestyle inflation refers to an increase in spending when one's income goes up, and this can hinder you from achieving your financial goals. Amid accelerating inflation in current times, it is crucial to identify lifestyle inflation and to be more mindful of your expenses – unless you have much money to spare. Even so, wouldn't it be better to put your spare money to good use by investing?
Investment is the way to go
Still worried about the increase in prices? It is really time to start exploring your investment options. Be it to invest in yourself or an investment-linked policy like Invest builder, the earlier you get started, the more you'd be able to protect yourself against inflation.
1 Based on the minimum regular premium amount for a premium payment term of 20 years.
2Net premium refers to total premium paid plus total top-up(s) less any partial withdrawal(s).
Sources:
https://www.channelnewsasia.com/singapore/singapore-core-inflation-eases-february-2580911
https://www.channelnewsasia.com/singapore/why-singapore-inflation-rising-prices-higher-what-can-be-done-2463081
https://eservices.mas.gov.sg/statistics/calculator/GoodsAndServices.aspx
https://www.cnbc.com/2022/03/22/why-high-inflation-makes-investing-in-the-stock-market-a-smart-move-.html
https://dollarsandsense.sg/singapore-inflation-rate-2021-heres-much-prices-everyday-goods-services-increased/
Information is accurate as at 27 May 2022. This policy is underwritten by Etiqa Insurance Pte. Ltd. (Company Reg. No. 201331905K).
Invest builder is an Investment-linked Plan (ILP), which invests in ILP sub-fund(s). Investments in this plan are subject to investment risks including the possible loss of the principal amount invested. The performance of the ILP sub-fund(s) is not guaranteed and the value of the units in the ILP sub-fund(s) and the income accruing to the units, if any, may fall or rise. Past performance is not necessarily indicative of the future performance of the ILP sub-fund(s).
A fund summary and product highlights sheet(s) relating to the ILP sub-fund(s) are available and may be obtained from us via https://www.etiqa.com.sg/portfolio-funds-and-ilp-sub-funds/. A potential investor should read the product summary, fund summary and product highlights sheet(s) before deciding whether to subscribe for units in the ILP sub-fund(s).
As buying a life insurance policy is a long-term commitment, an early termination of the policy usually involves high costs and the surrender value, if any, that is payable to you may be zero or less than the total premiums paid. You should seek advice from a financial adviser before deciding to purchase the policy. If you choose not to seek advice, you should consider if the policy is suitable for you. This content is for reference only and is not a contract of insurance. Full details of the policy terms and conditions can be found in the policy contract.
This policy is protected under the Policy Owners' Protection Scheme which is administered by the Singapore Deposit Insurance Corporation (SDIC). Coverage for your policy is automatic and no further action is required from you. For more information on the types of benefits that are covered under the scheme as well as the limits of coverage, where applicable, please contact us or visit the Life Insurance Association (LIA) or SDIC web-sites (www.lia.org.sg or www.sdic.org.sg).
This advertisement has not been reviewed by the Monetary Authority of Singapore.