Through Etiqa's community initiatives and partnerships, we believe we can make a positive impact on people's lives to keep them smiling and help them build a better future.
At Etiqa, we believe in promoting holistic well-being by nurturing relationships in an inclusive way that benefits humanity. We aim to equip the community with the knowledge to improve their financial, physical and mental well-being.

Empowering the community to live well
Helping people equip themselves with the right knowledge and skills to improve their everyday lives.

Promoting social well-being of the community
Engaging the needy and seniors with activities to improve their social and mental well-being.

Providing wider access to financial inclusion
Providing complimentary insurance coverage for disadvantaged families.
As a leading insurer with a heart committed to making a positive impact on the people we serve, Etiqa partners with adopted charities to ensure that the most vulnerable in our society are well protected and given the opportunities to live life well.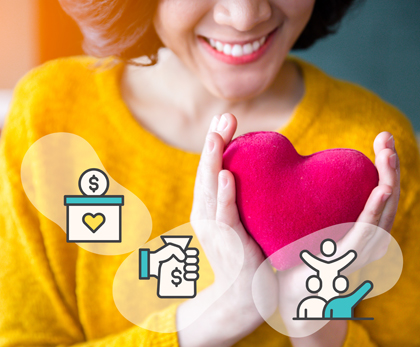 Change for Charity
Etiqa is proud to be a partner of the Community Chest's Change for Charity initiative. To make it even more convenient for our customers to donate and positively impact the lives of those in need, we are now offering more ways to give.
At Etiqa, we believe that life is better when we work together. By joining hands with our community, we can create a world where everyone has the opportunity to thrive. We invite you to be part of this meaningful cause and make a difference. Let's work together to make the world a better place.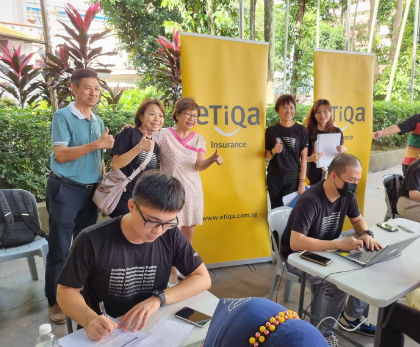 Offering complimentary insurance to the needy
We participated in events organised by Community Development Council (CDC) for residents from low-income families and offered them ePROTECT family, a complimentary personal accident insurance plan sponsored by Etiqa and Maybank Singapore.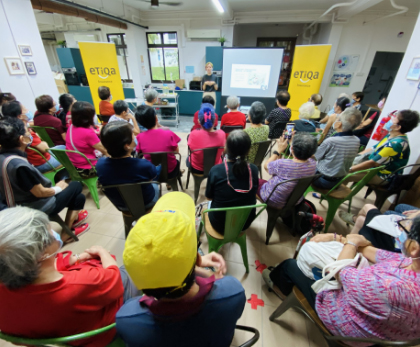 Conducting nutrition masterclass
We collaborated with qualified nutritionist and conducted hybrid workshops followed by cooking demo for seniors at Montfort Care. Bite-sized educational videos were published on our social media to maximise outreach. Etiqa also distributed care packs with health or dietary-specific food items to the beneficiaries.