At Etiqa, our brand promise is humanising insurance.

We keep our customers' best interests at heart by placing people over policies in everything we do. Our products and services are simple, personal and relevant to the modern-day consumer.
Experience the difference with Etiqa.
Etiqa's name is unique and personified by our core brand value of "humanising insurance".
The design of the logo is dynamic, daring and distinctive. We show our appreciation to our customers with the "TQ" and yellow smiley. The mix of upper and lower case letters reflects our youthfulness, approachability and accessibility. The yellow and black signifies the link to our parent company, Maybank, and exemplifies our solid financial standing.
We aim to make insurance as easy, clear and honest as possible for our customers. In everything we do, we are driven passionately by our 4 attributes. The result is an Etiqa experience that's all about you.

Performance with Conscience
We are ambitious about our future. To achieve this, we constantly innovate and devise new solutions. We care about our customers and strive to develop products and services that benefit you.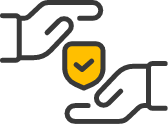 Strong partnerships are important to the success of our business. We partner agents, companies, families and individuals in providing solutions. Being approachable means our partners can always reach out to us easily.

We have the confidence to say what we mean. Small print is how the competition does business, but not us. We have the systems, people and products to back our claims. Most importantly, our solutions are innovative and current.

We take pride in our success in takaful, bancassurance and conventional insurance because we work hard for it. We aim to help the whole industry progress as we are part of it. We are proud of our rich history and continue to write Etiqa's future.