At Etiqa, our brand promise is humanising insurance.

We keep our customers' best interests at heart by placing people over policies in everything we do. Our products and services are simple, personal and relevant to the modern-day consumer.
Experience the difference with Etiqa.
Etiqa's name is unique and personified by our core brand value of "humanising insurance".
The design of the logo is dynamic, daring and distinctive. We show our appreciation to our customers with the "TQ" and yellow smiley. The mix of upper and lower case letters reflects our youthfulness, approachability and accessibility. The yellow and black signifies the link to our parent company, Maybank, and exemplifies our solid financial standing.
We aim to make insurance as easy, clear and honest as possible for our customers. In everything we do, we are driven passionately by our 4 attributes. The result is an Etiqa experience that's all about you.

Performance with conscience
As a people centric company, we strive for excellence and act with upmost integrity. A digitally forward insurer that prioritises customer satisfaction with easy-to-use technology tools that can improve and enhance the overall experience of our customers.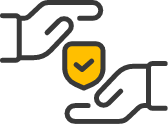 Etiqa Singapore believes people must be prioritised before policies, so we focus on making our insurance solutions customer-centric. Customer-centric and strong partnerships are vital to the success of our business.

We uphold transparency and honesty while simplifying our processes and procedures, so our customers and partners can get the information that they need easily.

Backed by Maybank, Southeast Asia's fourth larges bank, along with our international insurance partner, Ageas, we are always ready to enrich your business with our experience and knowledge.