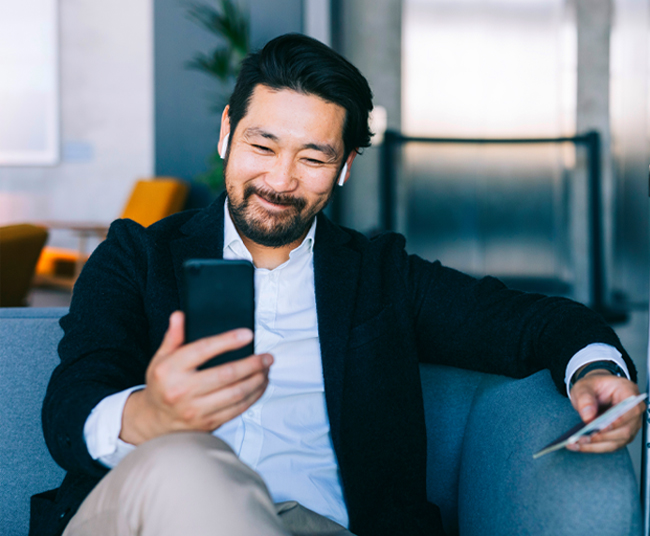 Corporate Travel Insurance
Protect your employees for their business travel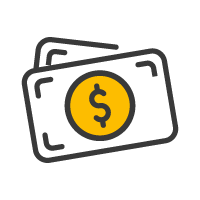 High Trip Cancellation Expenses coverage of $10,000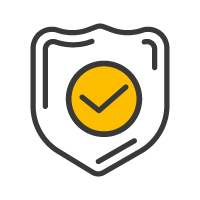 High coverage for medical expenses in Singapore for up to $50,000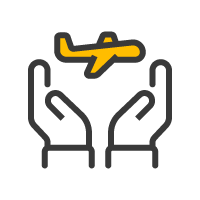 Free leisure travel extension for named employees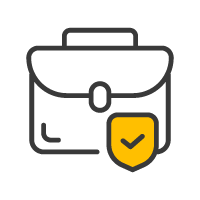 Covers up to 180 days for each business trip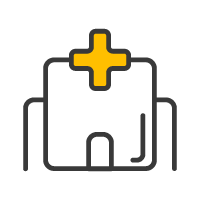 Comes with COVID-19 coverage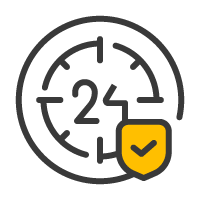 24-hour emergency travel hotline
Plan Highlights
Plan 1
Plan 2
Plan 3

(S$) Sum Insured
Overseas Medical Expenses
100,000
300,000
500,000
Medical Expenses for Hospitalisation due to COVID-19 (sublimit of Medical Expenses)
Post Journey Medical Expenses
10,000
30,000
50,000
Post Journey Medical Expenses for Hospitalisation due to COVID-19 (sublimit of Return Treatment)
Traditional Chinese Medical Treatment
750
750
750
Hospital Confinement Benefit (200 per day)
10,000
10,000
10,000
Double Hospital Confinement Benefit (ICU) (400 per day)
7,500
16,000
16,000
Hospital Visitation (Up to 2 friends or relatives)
5,000
8,000
10,000
Emergency Telephone Charges
200
200
200

(S$) Sum Insured
Emergency Medical Evacuation and Repatriation
Unlimited
Unlimited
Unlimited
Emergency Medical Evacuation and Repatriation due to COVID-19
Direct Repatriation Expenses (Home Country)
Unlimited
Unlimited
Unlimited
Compassionate Visit
5,000
8,000
10,000

(S$) Sum Insured
Accidental Death
150,000
300,000
500,000
Permanent Disablement
Accidental Burns Benefit
100,000
300,000
500,000
Accidental Death due to War
NA
15,000
25,000
Permanent Disablement due to War
Fracture Benefit
3,000
3,000
3,000
Compassionate Death Allowance
NA
5,000
5,000
Child Education Fund
NA
25,000
25,000

(S$) Sum Insured
Trip Cancellation Expenses
10,000
10,000
10,000
Trip Curtailment and Rearrangement Expenses
10,000
10,000
10,000
Travel Delay (200 per 6 hrs)
1,000
1,000
1,000
Flight Diversion
1,000
1,000
1,000
Flight Overbooking
200
200
200
Travel Misconnection
1,000
1,000
1,000
Baggage Delay (200 per 6 hrs)
1,000
1,000
1,000
Damage or Loss of Personal Baggage
5,000
5,000
5,000
Damage or Loss of Portable Business Equipment
2,000
2,000
2,000
Loss of Travel Documents & Money including Credit Card Fraud
2,000
2,000
2,000
Hijack
5,000
5,000
5,000

(S$) Sum Insured
Staff Replacement Benefits
5,000
5,000
5,000
Credit Card Indemnity
5,000
5,000
5,000
Legal Fees
15,000
15,000
15,000
Bail Bond Facility
15,000
15,000
15,000
Personal Liability
1,000,000
1,000,000
1,500,000
Rental Vehicle Excess Waiver
500
500
500
Full Terrorism Cover
Covered
Covered
Covered
Worldwide Emergency Medical Assistance
Covered
Covered
Covered
Automatic Extension of Policy Period
Up to 30 days due to Hospitalisation or Quarantine
Travel Assistance Services
1. Travel Information and Emergency Assistance Services (English & Mandarin)
Included
2. Pre-Trip Information Services
3. Inoculation Requirements & Visa Requirements
4. Interpreter Referral
5. Loss of Passport Assistance
Plans
Plan 1
Plan 2
Plan 3
Premium per Traveller (S$)*
Basic Coverage (Sections A to C)

Regional

122
162
237

International

142
232
312
Comprehensive Coverage (Sections A to E)

Regional

160
200
275

International

180
270
350
*Goods & Services Tax (GST) is not applicable for this policy.
BUY NOW VIA ETIQA'S PANEL OF PARTNERING TRAVEL AGENTS
This policy is underwritten by Etiqa Insurance Pte. Ltd.
This content is for reference only and is not a contract of insurance. Full details of the policy terms and conditions can be found in the policy contract.
This policy is protected under the Policy Owners' Protection Scheme which is administered by the Singapore Deposit Insurance Corporation (SDIC). Coverage for your policy is automatic and no further action is required from you. For more information on the types of benefits that are covered under the scheme as well as the limits of coverage, where applicable, please contact us or visit the GIA or SDIC web-sites (www.gia.org.sg or www.sdic.org.sg).
Information is accurate as at 27 September 2022.
You might also be interested in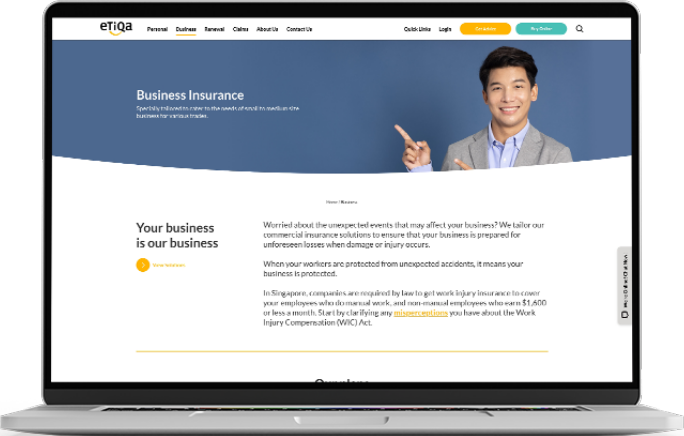 Apply for business insurance today
Improve financial security and protect your business with a diverse range of affordable and flexible solutions.