Reading Time:
6
minutes
Singaporeans are no stranger to work and stress, and trying to manage a work-life balance is easier said than done. Recent statistics show that 41% of Singaporeans would rather be unemployed than feel unhappy in their job. Yet, at the same time, workers in Singapore fear not having enough money for retirement.
That got us thinking: Instead of leaving a stressful job or quiet quitting, is there a way to be happier at work? It may be wise to learn how to derive joy from work while we can (still work), so as to build a healthy retirement nest and worry less for the future.
As the investment guru Warren Buffett said, "do something you enjoy all your life". We have some useful tips to help you be happier at work. Read on!
RAT RACE IN SINGAPORE: CAN YOU REALLY ESCAPE IT?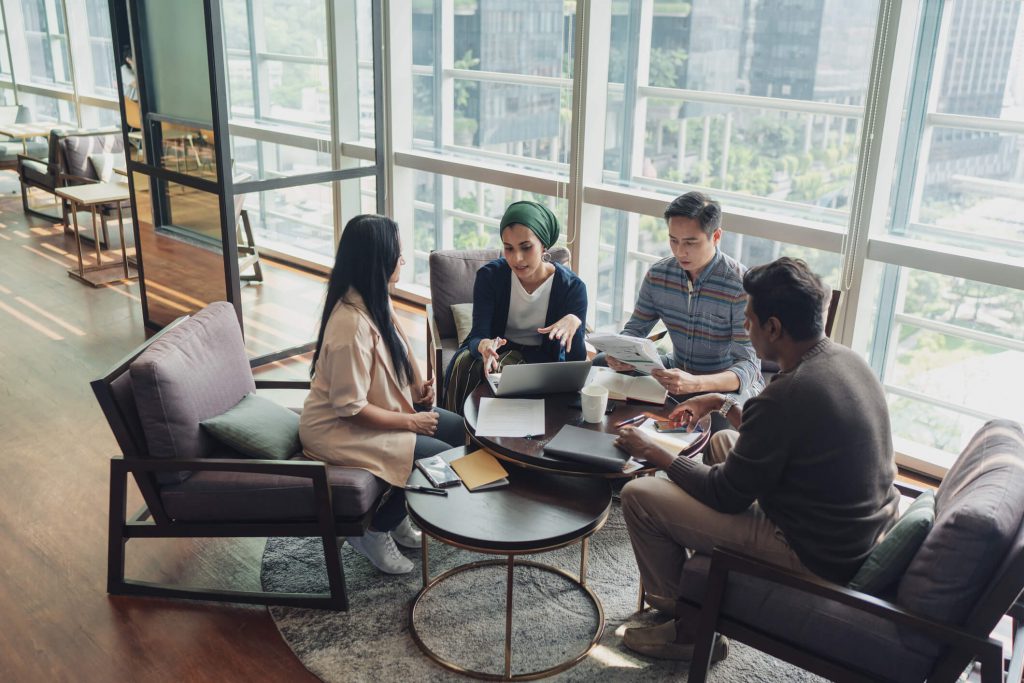 "If you want to succeed in life, you better start working hard." This may sound familiar to you, as the rat race in Singapore actually starts as early as in school. It is common knowledge that work in Singapore is competitive, as it is in all other metropolitan cities.
The question is, is it possible to escape the fast-paced lifestyle and the intense competition? In order to do so, you must first identify the reason(s) you are in this rat race.
Reasons why people get caught in the rat race
Many Singaporeans feel pressure to succeed and make progress in our careers. We often work long hours and sacrifice work-life balance to do so. This pressure can be fueled by factors such as high cost of living, social expectations, and a competitive job market. Perhaps your need for success is fueled by a sense of personal achievement, maybe you have a preferred lifestyle or you are just trying to do your best as a sandwich generation.
Nevertheless, being in the rat race in Singapore can have negative effects on mental health. It was found that 86% of Singaporeans are stressed, and the top drivers of stress were financial and economic issues. The report also found that 95% of Singaporeans are already burned out, while others suffer from loss of concentration and productivity.
Find your motivation
The first step to escaping the rat race lies in finding your motivation, and it may not necessarily require you to quit your current job. By retaining your current job and learning how to enjoy work, you can have a steady income that allows you to work towards financial freedom and have sufficient retirement funds in old age.
While you are at it, consider Enrich flex plus, an endowment plan designed to help you save for the long term while enjoying flexibility to support your key milestones in life. Learn more.
TIPS TO BEING HAPPIER AT WORK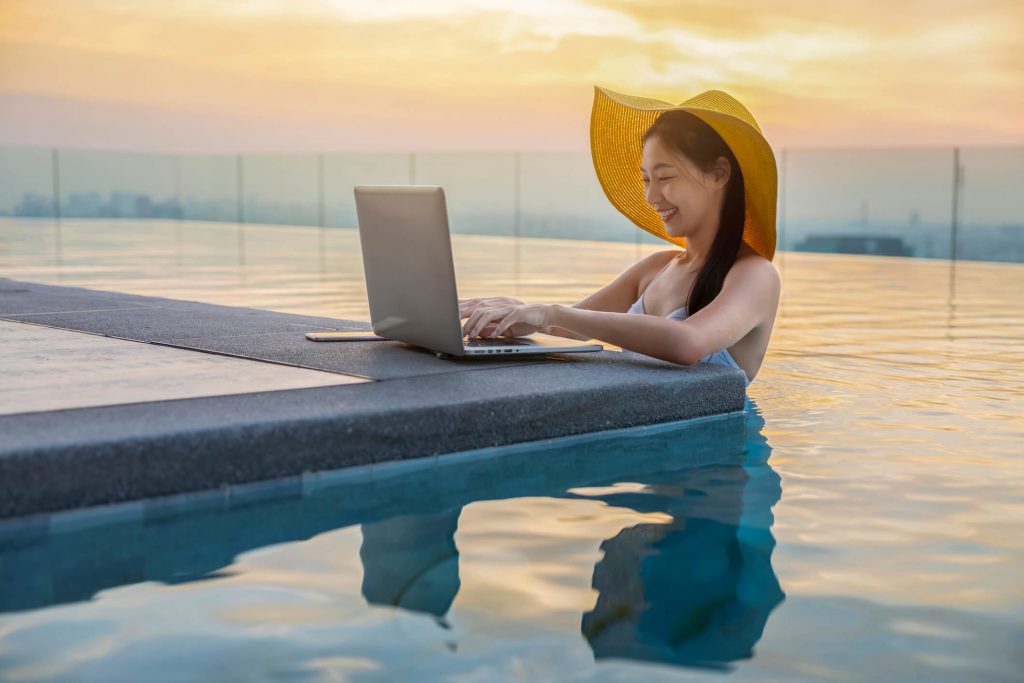 Being happier at work can make a positive impact on your professional and personal life. It can lead to greater job satisfaction, productivity, creativity, and overall well-being. As you develop your career, the steady income can help in your retirement planning so you need not worry too much about the future. Here are some easy tips to be happier at work:
Tip #1 Find the purpose and meaning to your work
Have you ever wondered why you are working and what are you working for? Meaningful intention can help you stay focused on the things that matter most to you such as your family, your well-being, etc.
It is crucial to identify the purpose and meaning to your work, as they can guide important life decisions and create meaning. For some people, their purpose lies in their responsibilities to their families or friends, for others, purpose is connected to vocation, i.e. meaningful and satisfying work. What about you?
Maybe you are one of the many younger workers in Singapore striving for FIRE (financial independence, retire early). In your pursuit for financial freedom, you may want to invest wisely and have a diverse portfolio, including Enrich flex plus endowment plan while you work hard.
Tip #2 Aim for a better job fit
Now that you have identified what drives you, it is time to align your work motivator(s) and aim for a better job fit. Before that, you may want to think back to what makes you accept your current job in the first place. Are the reasons still valid?
Sometimes, our work motivator(s) may change according to different stages/ situations of life – pretty similar to our protection needs. Doing an evaluation on your role and work motivators from time to time can help you to feel relevant and be happier at work.
Fresh graduates who are looking for a job would also benefit in the long run if you aim for a better job fit.
Tip #3 Know when to cut your losses
There are many reasons one may feel unhappy at work. An open mind is required to explore options that could benefit you in the long term. For example, if you love your job but you happen to be an unfortunate victim in workplace bullying, you may want to seek support, defend yourself and engage in clarification talks.
However, if all else fails, you may want to consider transferring to another role or quitting as a possible last option. Also, if your current role no longer motivates you or meets your needs, don't be afraid of pursuing better opportunities. The key lies in planning far and for the long time. Just like Etiqa's Enrich flex plus.
Tip #4 Harness a growth mindset
When work gets too challenging, it's normal to feel stressed out. On the other hand, if work appears to be too simple or monotonous, you may get bored easily. For those who are facing endless challenges at work, don't give up just yet. Try to harness a growth mindset and learn from each experience. Your abilities are not set in stone, and your skills will definitely improve over time.
If you are starting to feel bored at work or have already been in such a state for a while, you may want to start seeking opportunities to learn new skills and knowledge. In addition to reigniting interest at work, it can also help you to step up in your career. Unsure of where to start? How about learning to better manage your finances? Read this for some money tips.
Tip #5 Build meaningful work relationships
The next time you feel stressed at work, you may want to refrain from sighing, and smile instead. Be it genuine or forced, a smile actually prompts the brain to produce endorphins and serotonin, leading to positive emotions. That means reduced stress, better heart health and immune system.
Staying positive at work can also help improve your overall well-being and productivity. In fact, it will improve the way people view you, and that shall lead to more meaningful work relationships, and your co-workers would be more inclined to help you succeed. With that, you shall naturally feel happier and be more at ease during work.
WORK TOWARDS A HAPPY LIFE AND SECURED FUTURE
It's time to change your life motto. Instead of "working hard", how about striving to work happily and enjoy what you do? As Alice Walker said, "Don't wait around for other people to be happy for you. Any happiness you get you've got to make yourself."
By being happier at work, you can build a sustainable career and be future ready for retirement in time to come. Also, don't forget to check out Enrich flex plus endowment plan to help you save for the long term while you continue to live fully in the present.
Enrich flex plus is an endowment plan with guaranteed maturity yield of up to 1.66% p.a. and potential total maturity yield of up to 3.96% p.a.1. This flexible insurance savings plan also offers the flexibility to withdraw2 your accumulated cash value anytime you need it, when life presents you an opportunity not to be missed. Learn more
[The End]
Sources
https://www.randstad.com.sg/hr-trends/workforce-trends/singapore-employees-rather-be-jobless-than-feel-unhappy-at-work/
https://www.etiqa.com.sg/wp-content/uploads/2022/09/Retirement-Survey_Final.pdf
https://www.humanresourcesonline.net/singaporean-gen-zs-and-millennials-are-worried-about-not-having-enough-retirement-funds
https://www.hcamag.com/asia/specialisation/mental-health/94-of-singapores-hybrid-workers-suffer-from-stress-report/428306
https://www.nurtureyoursmile.com/post/why-smiling-is-so-powerful/
1 Based on male, non-smoker aged 1, for single premium payment option. The illustrated value is based on the illustrated investment rate of return of 4.25% p.a. Based on the illustrated investment rate of return of 3.00% p.a., the total maturity yield will be 2.78% p.a. The two rates, 4.25% per annum and 3.00% per annum, are used purely for illustrative purposes and do not represent the upper and lower limits on the investment performance of the participating fund.
2 Please refer to the policy contract for full terms and conditions.
Information is accurate as at 22 March 2023. This policy is underwritten by Etiqa Insurance Pte. Ltd. (Company Reg. No. 201331905K).
As buying a life insurance policy is a long-term commitment, an early termination of the policy usually involves high costs and the surrender value, if any, that is payable to you may be zero or less than the total premiums paid. You should seek advice from a financial adviser before deciding to purchase the policy. If you choose not to seek advice, you should consider if the policy is suitable for you. This content is for reference only and is not a contract of insurance. Full details of the policy terms and conditions can be found in the policy contract.
This policy is protected under the Policy Owners' Protection Scheme which is administered by the Singapore Deposit Insurance Corporation (SDIC). Coverage for your policy is automatic and no further action is required from you. For more information on the types of benefits that are covered under the scheme as well as the limits of coverage, where applicable, please contact us or visit the Life Insurance Association (LIA) or SDIC websites (www.lia.org.sg or www.sdic.org.sg).
This advertisement has not been reviewed by the Monetary Authority of Singapore.